About Us
Certainly Wood was established in 2006 and has grown significantly from producing 1,000 tonnes of barn dried firewood to now, over 16,000 tonnes of premier kiln dried firewood and 2,500 tonnes of kindling wood, making it by far the largest specialist producer in the UK.
The business has endeavoured to bring a more professional approach to what is a very traditional cottage industry, hoping to make it not only easier for customers to buy firewood in known quantities, but also of consistently high quality, hence the HETAS quality assurance.
Working very closely, with stove manufacturers and distributors, stove retailers and installers the aim is to help educate customers about the importance of using dry wood and the right fuel for the wood burning stove. Crucial in so many ways, but often ignored.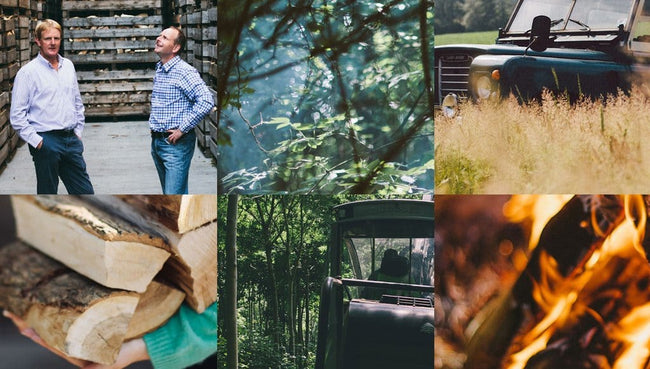 Our History
The business was set up by brothers George and Nic at the family farm in Hereford. George has farmed at home with his father since leaving Cirencester Agricultural College, whilst Nic pursued a career initially in growing raspberries, then running a local soft fruit co-operative, and finally marketing for a larger co-op, before joining George in 2006 to set up Certainly Wood.
The farm grows cider fruit for Bulmers and blackcurrants for Ribena and with an early passion for trees, Nic and George's father Hugh started growing Poplar trees on the farm.
When Hugh married in 1957 he planted an area of Poplars vowing to take his wife Jennifer on a world cruise when the trees reached maturity 25 years later, at which point he would sell them to Bryant & May for matches. Sadly the Bryant & May factory closed before the trees matured, so the dream never came true however, his and George's passion for growing Poplar continues to this day.
About 40 years ago, Hugh bought a small machine from the local village that made kindling from waste pallets. Kindling production from Poplar became one of the first diversification enterprises of the farm and George developed a way to dry the wood and started selling kindling to Tesco's. Firewood then followed in a small way, but just Ash which was dried in the old barns and sold to local retailers.
When Nic joined George it was agreed to set up a separate business to the farm. Nic, having recently done a post graduate diploma in marketing was keen to set up a brand and so Certainly Wood was born. Whilst George had developed a kiln to dry the kindling and now logs, Nic felt that this was a key selling point and no one had ever sold kiln dried firewood before.
Who We Are
Certainly Wood is very much about a British family business, built on the values of trust, heritage and premium quality.
All the firewood is made from sustainable British woodland within just 100 miles from Hereford.
The company prides itself on a high level of knowledgeable and friendly customer service from a dedicated team that are passionate about wood, firewood production and providing support for local communities and charities.
Industry Leaders
In more ways than one, Certainly Wood is very much an industry leader. Primarily, it is the pioneer of kiln dried firewood in the UK. It was definitely the first in the UK to ever sell kiln dried, and it is probably the first in the world! There was certainly no evidence at the time of anyone selling kiln dried logs, and if that was not a big enough a step, the business made sure that not only are the kilns run on wood waste, but also much of the electricity used comes from solar panels.
Having discovered the best way to season wood for burning, and dry firewood fast, the business then worked with HETAS to set up a quality standard for firewood. It became the first firewood producer in the UK to become approved under the HETAS 'Quality Assured Fuel' scheme. With this came the beginning of standardisation for selling logs. All Certainly Wood's logs are sold in small packs or bulk bags of a known and checked volume so customers know what they are buying every time. A move away from selling by weight or a 'load'.
Seasoned firewood has traditionally been sold by retailers in small nets, but with the confidence that Certainly Wood's kiln dried logs are so dry they started to pack the logs in sealed plastic bags and in attractive branded packaging. Even the kindling is packed in boxes - a first for the market, making it much cleaner and convenient for both the retailer and the customer.
The company continues to innovate, making sure production costs are kept to a minimum and customers receive the best value, highest quality products on the market.
Finally, the company's Flamers natural firelighters are also produced in Herefordshire, the first ever natural firelighters to be made in the UK.